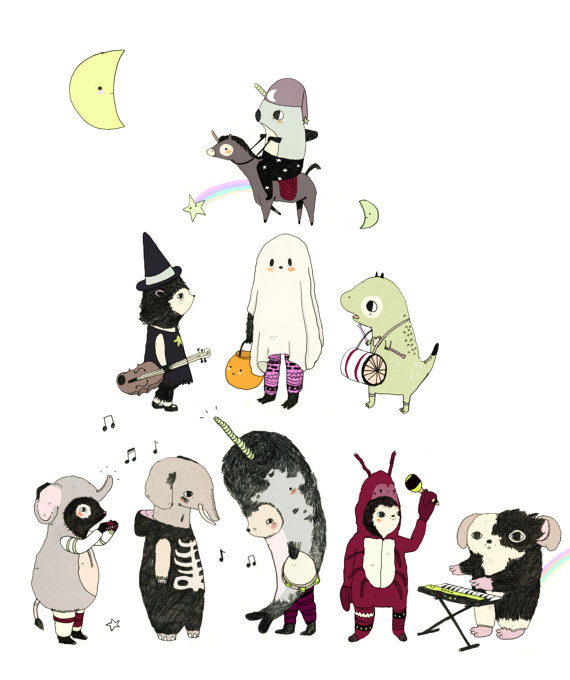 It's the first week of September, hot as hell, and I'm already starting to plan for Halloween time. I can't help it, I'm excited. It's also possible my brain might be melting. Perhaps if I think about cooler times they will arrive.
First, I love this Halloween Party print from Julia Pott. She also made one of my favorite short films, BELLY, which I highly recommend you watch.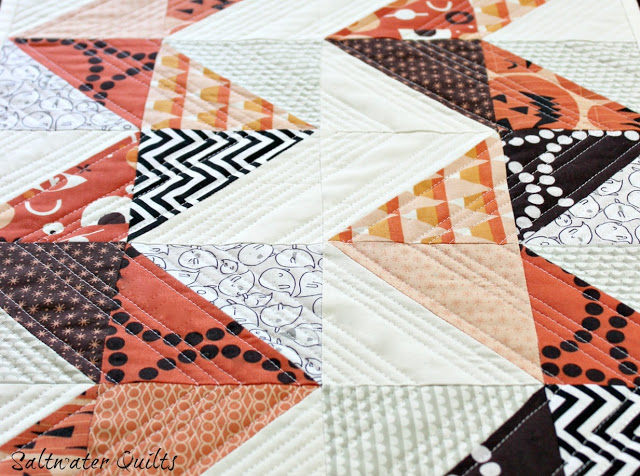 I can't stop thinking about this Halloween Table Runner from Saltwater Quilts. I made this Halloween table cloth last year with some of the same fabrics but I really like the quilted version. Looking forward to going to the fabric store to see what new prints are available this year.
Also I've been fiending for an apple donut. What? I don't even know that I've ever had an apple donut but thanks to instagram I've seen tons of them and want one for myself. I guess it's time to get in the kitchen and start testing out some recipes (because it's obviously a great idea to mess with frying oil when it is a billion degrees out).
Perhaps one of the best breakfasts I've had in as a vegan (perhaps in my life even) was at Madeline's Bistro. Though I'd heard about this little restaurant in Tarzana as being the only real gourmet vegan restaurants in the Los Angeles area, it took me ages to finally go there. Finally, one Saturday when Shawn and I had to make a trip out to the far reaches of the west valley, we made Madeline's our breakfast destination. The thing that enticed me the most was the promise of vegan beignets. Beignets are a rare treat on their own, but I'd never even heard of a vegan version. I had to have them. Of course I was not disappointed. The beignets were crunchy on the outside but fluffy on the inside. Instead of being covered in the standard powdered sugar, they came with a fruit compote. They were amazing. I could write this whole post just about those beignets. I wish I wasn't writing this right now because now I want to go eat them. Ok, moving on. We also got the donut which was equally as satisfying. Without a doubt the best vegan donut I've ever had, soft and fluffy and delicately sweet.
Shawn ordered the chicken and waffles. Luckily I got to sample some. The chicken was a breaded seitan that was to die for. Again, quite possibly the best seitan I've ever had in my life. It was perfectly seasoned and well matched with the potatoes and gravy. The Belgian waffles were thick and crunchy. They definitely had a healthier taste to them with a nutty, grainy flavor.
I ordered the porcini-crusted tofu benedict since I am obsessed with vegan benedict. This was a pure delicacy. The hollandaise was lightly flavored and the whole thing was perfectly seasoned. It was an amazing combination of vegetables and tofu with just enough sauce to compliment the dish without overwhelming it. In other words, it was amazing.
I really was so impressed with everything that we had. If you're going to try Madeline's, you must go for brunch. It's honestly not that far from where we live, but just far enough that we pretty much only go for special occasions, which is perfect.
This all too common ailment afflicts nearly as many as the flu, but it can be even more devastating to vegans who cannot easily satisfy their donut craving. Recently a friend of mine fell victim to this affliction, and a very rare strain known as mini-donut fever. As you may know, the only cure is to eat donuts, in this case mini-donuts. So we set out on a mission to make our own vegan mini donuts using the recipe from Vegan Yum Yum as a starting place.
It should have been an an easy enough task, with a clear recipe to follow, but things did not go as planned. Plain baked donuts are good, but blueberry sounded even better so we threw in a handful of wild blueberries to the batter of our first batch, but the batter was already looking awfully wet. We carried on, hoping for the best. The best was not so good. Despite the recipe saying that you should not grease the pan (it was non-stick anyway) the donuts stuck horribly, and because the added berries, fell apart when you tried to remove them. They still tasted rather good though, so we ate a few of the ugly bits.
Round two, we added more flour and greased the pan. This batch came out better than the last but as they sat out, became rather crunchy. I would still consider these fairly successful. We glazed them with a blueberry juice glaze which was fantastic and so pretty.
Next we decided to go for some pumpkin spice donuts. This time we abandoned the recipe completely. Bad idea. While these donuts had the correct consistency, fluffy and light, the flavor was just off completely. There was neither enough pumpkin nor spice. Three out of three taste testers agreed, these donuts tasted like…hay. Yep, you got that right. They tasted like dried grass. I'm sure you could pass them off to some unsuspecting health-food type, but that is not what we were interested in. We had already frosted them before we realized that they tasted so bad, so at least they looked pretty.
The unfortunate side effect of this endeavor is that I've now come down with donut fever myself. Look out for some more (hopefully more successful) donut making in the near future.
Also get ready because it's almost time for Veganmofo 2009. I can't wait to get cookin'. Last year's veganmofo really inspired me to work harder on this blog and get it going from something that I did only for myself to something I shared with people.