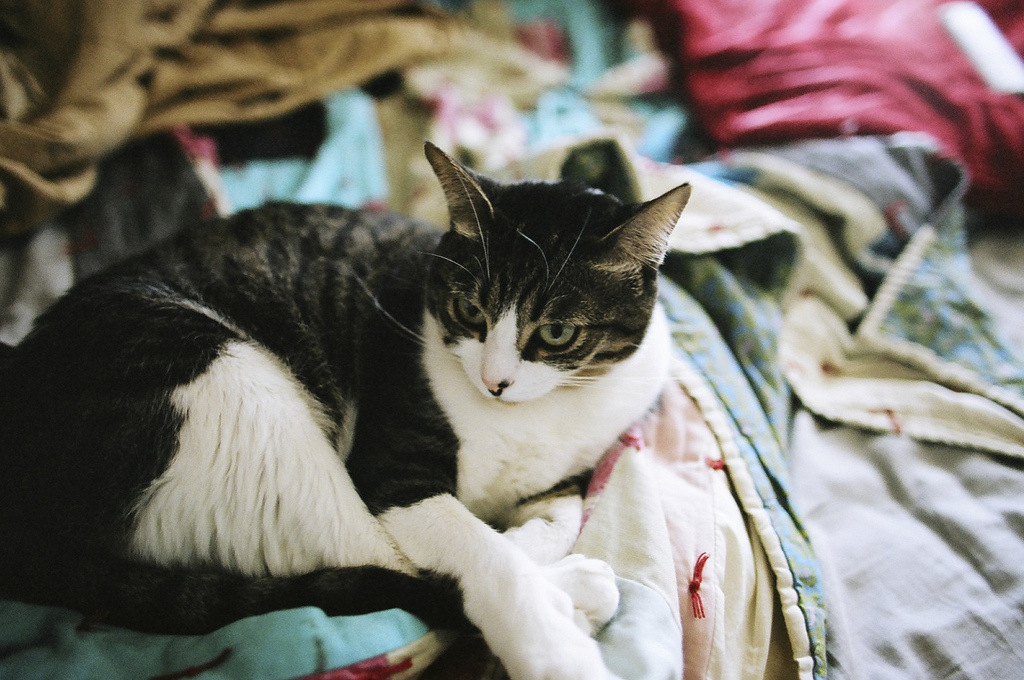 I haven't cooked a thing in quite awhile. Nor made anything of significance. I've been awfully sick. That "I can't get off the couch or do anything at all" kind of sick.
Luckily I'm feeling better, but not quite better enough to make something to share.
Instead, I'm going to make it up to you by sharing my cats. Because, well, they make me happy and forget about what ails me. And they're damn cute. Also, since I changed the layout on Cute and Delicious they aren't up on the header anymore and I think they deserve an appearance.
This is Mochi (the grey fluffy one) and Meeme (the white and stripey one) on the day we brought them home from the animal shelter.
I just want to say that if anyone ever tries to tell you that there is something wrong with shelter animals they are insane. These darlings are just precious and actually more affectionate, well behaved and friendly than many cats out there. Not to mention that adopting from the shelter was insanely easy and SAVES A LIFE (or two). In other words, I recommend it.
I poured over the LA animal services website for weeks in anticipation of getting these little critters. Ultimately we just went to the shelter and met a few of the cats. It wasn't easy going into a room full of sweet cats that needed homes and choosing who to take home. We knew we wanted to get two though, so they would always have company. When we found out Meeme & Mochi were sisters, we knew they were the ones.
They are my little babies. Even when they drive me bonkers I just adore them. Meeme, likes to knock stuffed animals onto our heads around 5 or 6 am so I will get up and feed her. She's a little bit of a crybaby and will sometimes follow me around meowing. Mochi likes to run around our apartment at lightning speed demolishing whatever gets in her path, including, on many occasion, me.  She's also amazing at sitting down in exactly the spot that will block the entire screen if you are watching a movie, usually right in front of your face.
But even those things that might irritate some people I find endearing. Not to mention the other adorable things they do. They both love to play fetch, especially with aluminum foil balls (or yarn pom poms in Meeme's case). They love to snuggle on top of our china cabinet, or in their scratch lounge. They are the sweetest, snuggliest cats and I just love them. I love that they both have completely different personalities. I love that they're always waiting at the door when I come home. I love that I can just scoop them up and give them a hug always.
Since they're from the shelter, we don't know exactly when their birthday is, except that they were about four months old when we got them on January 2nd. So that makes them two now! My little girls are all grown up! Ok, thanks for letting me be the crazy cat lady for a little bit. I'll be back with some treats soon.
Let me start off by saying that I don't like onions. I understand that they provide a good deal of flavor to certain dishes but if given the option, I would more often than not go without them. I really wanted to make a savory pie though and even though this was nothing like the recipe I envisioned, I came across this recipe and decided to try it.The end result was delicious. It was something like eating sweet onions on a cheezy biscuit crust. I even had seconds. It's not necessarily something you would want to have for dinner all the time and could probably have used some greens to go along with it but was insanely good. Check out the recipe below.
Onion Pie
Recipe adapted from How to be a Domestic Goddess.
topping:
2 very large yellow onions
1 Tbsp olive oil
1 Tbsp Earth Balance
1/2 tsp dried thyme
2 oz soy cheddar cheeze, finely shredded
salt and pepper to taste
crust:
1 1/3 cup flour
1/3 cup nutritional yeast
1 tsp baking powder
1 tsp salt
1 1/2 tsp egg replacer
2 Tbsp water
1/2 cup soy milk including 1 tsp apple cider vinegar, left to curdle
1 tsp dijon mustard
3 Tbsp Earth Balance, melted
1/2 cup soy cheddar cheeze, finely shredded
For topping: Cut onions into large pieces. Heat olive oil and Earth Balance over medium heat. Add onions and saute for about 30 minutes, covered and stirring occasionally. When the onions being to soften, add the salt, pepper and thyme. Continue to cook until the onions are quite soft and browned on the edges.
Preheat oven to 400 degrees. Grease a 9″ pie dish with Earth Balance.
Put the onions into the pie dish, sprinkle with soy cheeze and set aside.
For the crust: Mix the soy cheese, flour, baking powder, nutritional yeast and salt in a bowl. In a separate dish, beat the egg replacer and water together until frothy. Combine the soymilk/vinegar mixture, egg replacer, melted Earth Balance and mustard. Pour into the dry ingredients and stir. The dough will be fairly sticky. Remove from the bowl and stretch out as if you were making a pizza crust about the size of the pie, being careful not to tear holes in it. Lay on top of onions in pie dish and seal edges.
Bake for 15 mins then turn down heat to 350 degrees and bake for another 10 mins or until the crust is golden brown. Let sit for a few minutes after removing from oven then place a large plate on top and flip the pie upside down. Slice and enjoy!
And on to the cats…When I decided to adopt cats, one of the big concerns in our household was what to feed them. Being vegan, it didn't seem right to feed them non-vegan food, but being that they are naturally carnivores, it was important to give them proper nutrition. So far their diet is a bit of an experiment and a combination of vegan and non-vegan cat foods.
The vegan option that seemed the most promising was some supplements made by Hoana that you make into your own cat food. It comes with a bunch of recipes from kibble to rice and tofu mix. I went with the recipe for seitan as seen below.
kittie seitan

It maynot be the prettiest meal, but isn't that far from something that I would eat myself. I made some very simple seitan, by just boiling some chunks of vital wheat gluten mixed with nutritional yeast in water with a bit of soy sauce for an hour. If I had a vegetable stock without onions or garlic in it I would have probably used that. In the future, if I have more time, it would be possible to make the stock and would make the seitan itself more flavorful.
I tore up about 3 cups of the seitan into even smaller pieces and mixed them a sauce made of 4 tsp VegeKit, 1/3 cup nutritional yeast, 1 Tbsp olive oil and a bit of soy sauce.
The verdict? They really like the stuff! I was surprised after hearing quite a few people say their cats wouldn't eat vegan cat food. I can understand where this general misconception would come from since a lot of people wouldn't take the time to make food for their cats. For example, they really don't like the canned vegan cat food I ordered and won't eat it unless it's mixed with something they do like.Since the seitan chunks are a bit more chewy than just plain cat food, Mochi (the grey one) has taken to batting them around on the floor while she eats. Personally I'm fine with this. If a cat were going to eat a live mouse, they would probably play with their food just the same. Meeme on the other hand likes to lick most of the 'sauce' off the seitan before she eats it. Every time I have fed them this, it is all gone by the morning. I'll definitely have to try some of the other recipes but this is a total success.
I know it's a new year (first post of 2009 in fact) but I still have a few things left to share from 2008. For the holidays I tried to create as many gifts as possible instead of buying them. I made a handful of stuffed animals, knit projects and of course holiday cookies. While I started all of these ambitious tasks well in advance, there's only so early that you can bake cookies without delivering them stale to their recipients. I had decided on snowflake sugar cookies and had even acquired some edible glitter to decorate them. Unfortunately, this cookie baking session was doomed from the start. I burnt whole batches and had other mishaps including dropping an entire sheet on the floor while burning my hand. In the end, the beautiful glittered and iced cookies I had imagined did not come into fruition. I'm pretty sure the end product still tasted good though, even if it wasn't as pretty as I would have liked.
Immediately following the new year was Shawn's birthday. To celebrate he got the dessert of his choice, which ended up being peanut butter cup cupcakes. I think my favorite thing about these guys is getting to say "cup cup." Ha! As you can see, they're chocolate cupcakes with peanut butter filling/frosting and peanut butter cups on top. They turned out super good. I think next time I will have to try a different way of frosting them so that they can have an entire peanut butter cup on top (and not look ridiculous). Also, I'd love to make the peanut butter frosting a bit more fluffy. It's a great consistency for the filling but a little dense on top.
Also, we got two new additions to our home. We adopted two 4 month old kittens from the shelter. They're adorable, loving and playful and I couldn't be happier with them. Despite not looking alike, they're actually sisters. I'm sure they will be making some appearances on this blog in the future. In fact, little Mochi is desperately trying to help me write this by walking all over the keyboard.