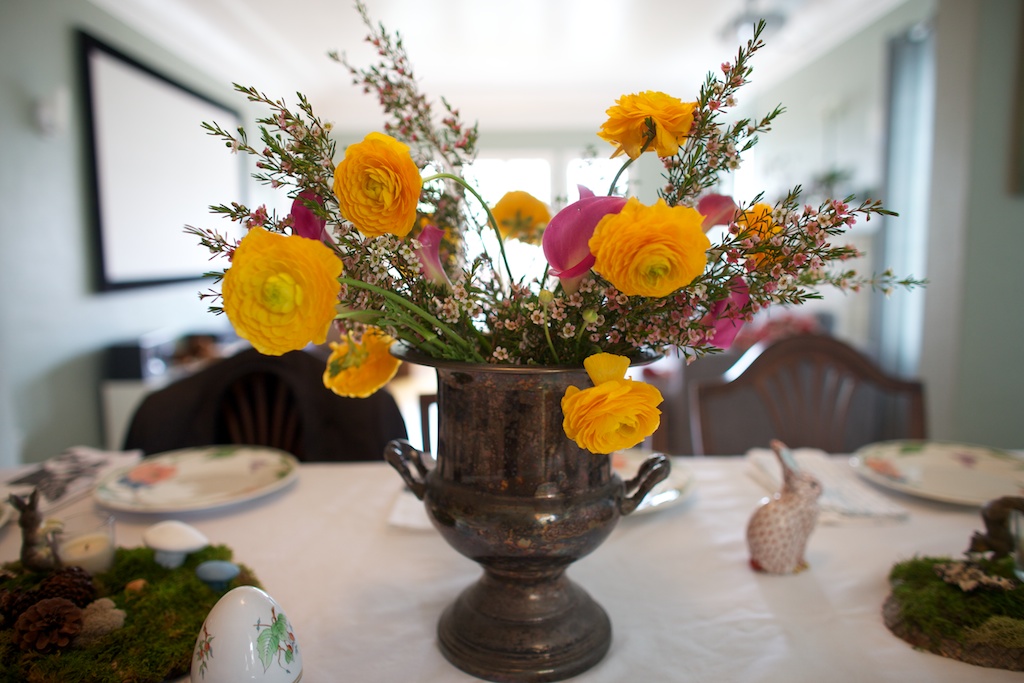 Well, we managed to pull everything together and put together a lovely Easter brunch. We even managed to snag an amazing dining set, including a beautiful hutch and a buffet, from Craigslist and pick it up on Saturday. There was a lot of cooking and moving of furniture and cleaning (as we still haven't quite moved in 100%) but I'm proud to say it went off without a hitch.

We reused the wonderful moss centerpieces from our rehearsal party along with a few pieces we have in our china collection. I am totally in love with this bunny.

We also used the cloth napkins that we got for our wedding (which you'll be seeing in action, in the next few days). Clearly I have a thing for bunnies. While we do have a lovely set of spring themed dishes, we were one setting short. This mismatched mushroom plate fit in nicely though.

I even tried my hand at flower arranging for the occasion. I obviously chose a vase that was much too large, for my flower selection, but I was really happy with the extra color.

I had to get a little fancy and make these french toasts with asparagus and orange beurre blanc that I found on Martha Stewart. Of course, with a few simple substitutions, I was able to veganize the entire recipe. They were a lovely addition to the brunch, slightly decadent, but not too sweet or overwhelming of the other dishes.

I've never had a beurre blanc sauce before so I'm not sure if I made it quite right but it was extremely tasty.

Cooking in our new kitchen is a dream. For the first time, I have sunlight in the kitchen. It's an amazing thing.

Shawn's one request was a deep dish quiche filled vegan bacon and daiya cheese. I used the broccoli quiche recipe as the base from Vegan Brunch
and just mixed in the extras. I made a broccoli cauliflower quiche for myself (yes all for myself). Oh and we had potatoes with artichokes, courtesy of my mom, and strawberries in vanilla balsamic.

Alicia brought some delicious roasted Brussels sprouts and a carrot ginger soup with cashew pesto. So good. I also made some roasted spring vegetables but forgot to photograph them. Oops!

My mom made an orange quinoa salad. Definitely an orange theme this year.

Nine of us fit at our new table! I still can't believe we found it.

With so many different dishes, we had to fill our plates many times with small servings. Here's round one with the french toast, quiche, soup and veggies.

Mochi really wanted to be part of the party.

I made some molasses candies as a treat. Having never made them before, I'm pretty pleased with how they came out. I think I could take another crack at it though. I used blackstrap molasses so they were particularly strong. Ideally I'd prefer them to be a bit more subtle and less chewy. Of course, they should also be coated in chocolate. Making candy is like making magic.

Luckily my mom brought an assortment of chocolates from Xan confectioners.
It was a wonderful day filled with family and friends. It definitely showed me how much it takes to host a good party. Thank goodness I had help with the dishes. Now I'm just glad I have the rest of my Sunday to relax.