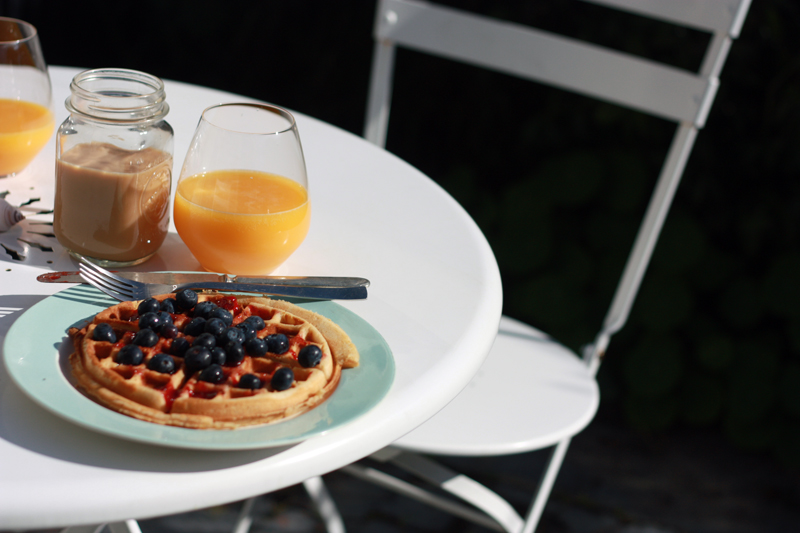 Today, I bring you a post from the most wonderful Tamera of Verhext. I absolutely adore her blog and insist that you go visit. She is a an inspiring writer with wonderful taste. As I've mentioned before, her recent wedding was by far the most beautiful I've seen. Verhext is a magical place of fanciful things and authentic thoughts. I'm so happy to have her share a little bit of her life here.
While Alix is away getting married (so so excited) I wanted to write about something Cute & Delicious!
So I'm inviting you to come along with us on our Saturday waffle family tradition. We've only been doing it a few months, but then, we've only been married a few months too. That's a family tradition, right?
Start with vegan, gluten free waffles (or any waffles,) strawberry jam, blueberries, coffee, and mimosas. Well, actually start with me going "make me waffles! make me waffles! make me waffles!" and poking my husband until he gets out of bed, while the new kitten runs in and starts licking the lamp noisily because he is a little weirdo.  If it's nice out, we sit in our tiny courtyard in the sun, basking and reading and talking. Follow brunch with Saturday errands in our '64 Valiant and a walk around the neighborhood (and a mango lassi!)
It magics away the whole week of work and stress and replaces it with dream day goodness.