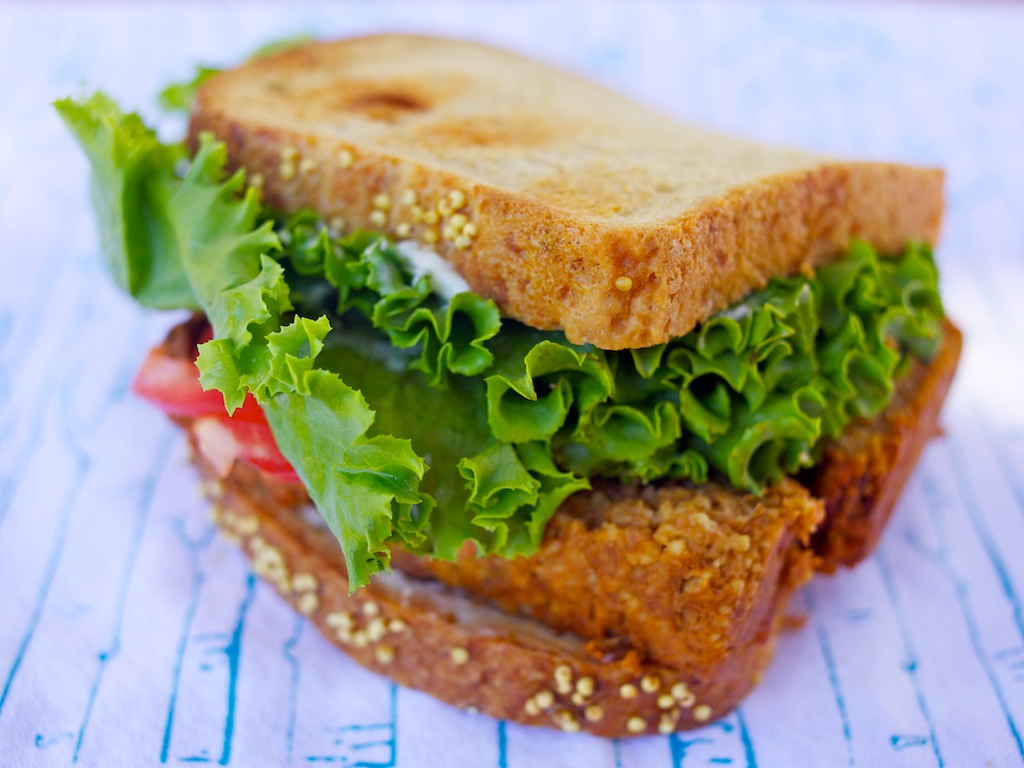 Hello! I'm back with more lentil loaf. This second recipe is even more flavorful than the last lentil loaf recipe. It doesn't have the chewiness, but instead has a grainier texture. We ate this loaf in sandwiches, which worked out great as they were tasty and filling; perfect for a picnic lunch.
So without further ado, here is the recipe:
Vegan Lentil Loaf – take two
2 cups cooked lentils
2 cups whole wheat couscous
1/2 cup bread crumbs
2 Tbsp olive oil
2 Tbsp arrowroot
1/2 cup ketchup
2 Tbsp vegan Worcestershire sauce
1/4 tsp liquid smoke
1 tsp paprika
1/2 tsp ground pepper
2 cloves garlic, minced
Preheat oven to 375°
Mix all ingredients together in a bowl mashing the lentils as you go. Make sure you mix everything really well.
Put into a lightly oiled loaf pan and brush the top with ketchup.
Cook for 45 minutes. Remove from oven and let cool for 10-15 minutes before serving.
Easy!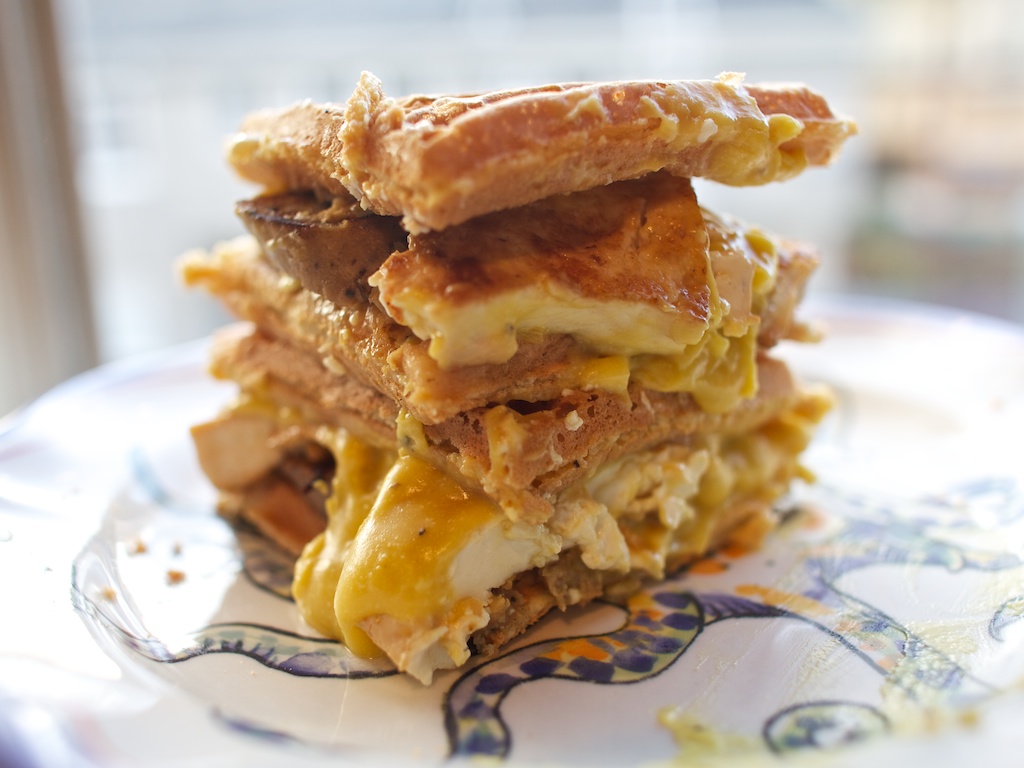 My dearest readers, it is almost 2011. Can you believe it? I certainly can't.
This year has been crazy. It's been rough at times and some of the best things ever have happened as well.
I really can't wait for 2011. I can't wait for our wedding and all the new experiences we will have.
On the last day of the year we celebrated by rearranging our whole apartment. I'm rather happy about it.
And we made waffle sandwiches.
We received a fancy little waffle maker for Christmas. It had to get broken in immediately.
So we had waffles for breakfast. We made the Chelsea Waffles from Vegan Brunch
and of course there were more than we could eat so we saved a few for later.
After we were hungry from moving all our furniture, I grilled up some apple field roast sausage and some slabs of tofu. Shawn made an amazing cheezy sauce. We piled it all together and devoured it. Definitely amazing. Delicious and amazing.
Tonight I'm looking forward to celebrating with some dear friends. My resolution this year is to be more magical. I think that's what my life needs.
Happy New Year!
xoxo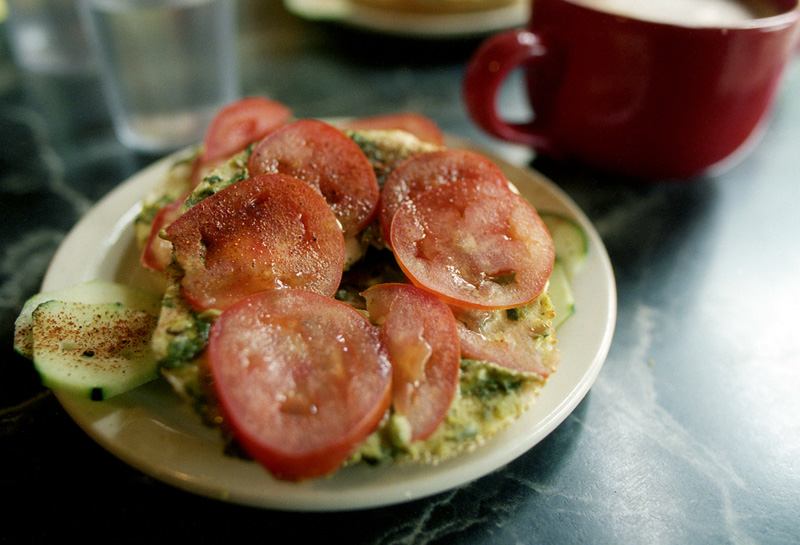 This is the bagel that started my recent bagel obsession. Sesame bagel with avocado, pesto, tomato, cucumber and spices made fresh at Red and Black Cafe in Portland. Perfect ingredients. Perfect breakfast. Plus a tasty latte to go along with it.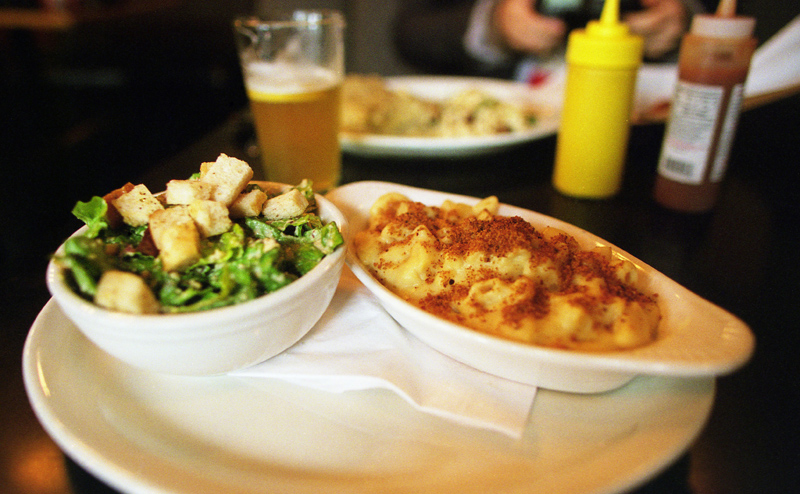 So let's talk about macaroni and cheese. I love it. It's been a favorite of mine forever. Isn't it a favorite of everyone's? As far as vegan mac and cheese, I've had some good ones but they're usually nothing spectacular. Don't get me wrong, there are some damn tasty mac & cheezes out there, but not usually something that I would order frequently. I'm a big fan of the plain old Shells and Chreese out of the box. This mac and cheese from Hungry Tiger Too was an exception to the rule. This was the perfect cheezy consistency with big soft noodles and wonderfully tasty breadcrumbs on top. The ceasar salad that came with it was pretty darn good too.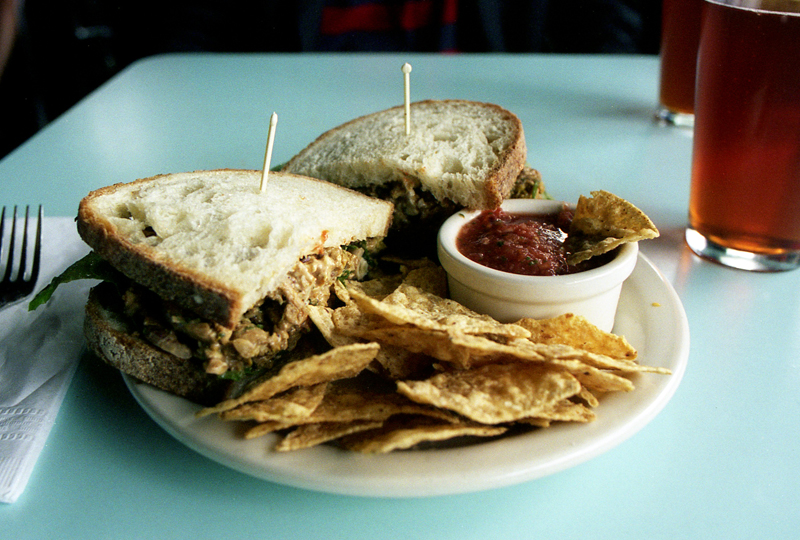 Last but certainly not least, this tasty "chicken" salad sandwich from the Bye and Bye hit the spot for a snack to go with our drinks. I've already mentioned how much I loved the Bye and Bye. It's awesome to order something that is outstandingly delicious while enjoying a beverage and their lovely atmosphere.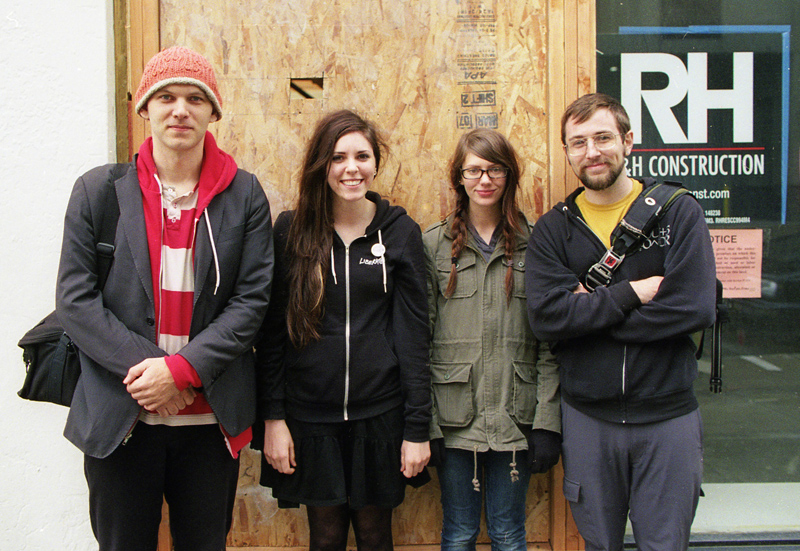 Ok this isn't food, but I wanted to give a little shout out to Julia, Angel and Austin who we ran into outside of Powell's books. When I say ran into, I mean, they started shouting "Little Vegan Planet" at us. Apparently they're readers of Shawn's blog and they recognized us. Honestly, I thought it was awesome. Not to mention they gave us the scoop on some vegan spots in Portland that we should try and were just super nice!
You should really check out Little Vegan Planet if you haven't already as Shawn has the scoop on everywhere we ate on our trip. And if you've seen it already, he'll be posting more in the next few days. Not to mention it's the cutest ever.