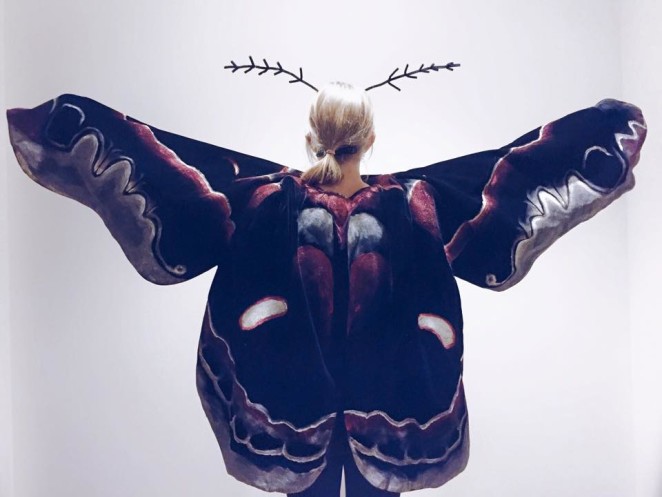 For years I've wanted to be a moth for Halloween but then Martha Stewart put a moth costume on the cover of her Halloween edition so I had to wait the appropriate mourning time to make a moth costume for myself. I wanted to make something that looked somewhat authentic but didn't involve having massive wings that would bang into things all night. I opted to make a cozy cape that when held up would look like moth wings. I consulted my dear friend Erin for advice on some stunning moths (there are so many to choose from!) and settled on the Cecropia moth. After sewing the wing cape, I painted the design onto the fabric, added some antennae and mothy dark eyes and I was ready to go.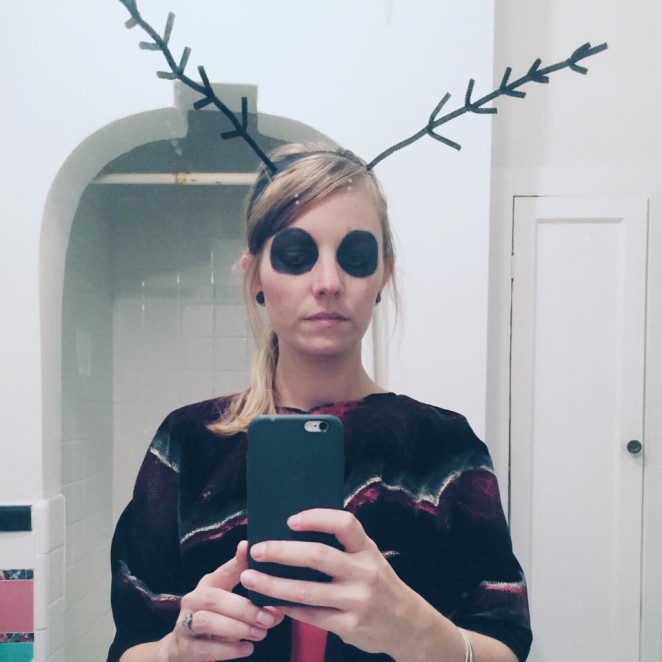 We of course had our traditional Halloween movie marathon. A few friends even drove all the way out from Texas just to be there as the rest of the TX contingent of marathoners were all here in Los Angeles. Our place was packed to the brim and it was a great time. We had many of the treats from previous years (my favorite spinach artichoke dip, caramel corn, cashew mac & cheese and pumpkin spice cake) and also added a taco bar this year. The jackfruit carnitas was of course a hit and to top things off, we had amazing cheese sauce made specially by James and Amy of Spiral Diner.
We ended this year by taking a field trip to a real theater for our last set of movies. I think more people made it through the whole event this year than any other.
1. Earnest Scared Stupid
2. Demons
3. Ginger Snaps
4. Wes Craven's New Nightmare
5. The Descent
6. The Ring
7. 30 Days of Night
8. Sheitan
9. Dead Alive
10. Possession
11. Crimson Peak
12. Goosebumps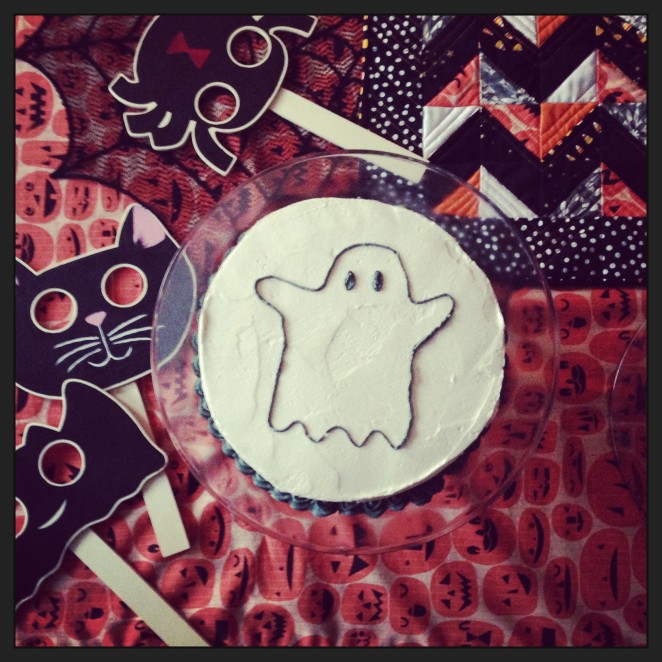 We just finished up our 6th annual Halloween Movie Massacre. We made it through another 24 hours of horror films like the crazies that we are. We're actually watching HOCUS POCUS as I write this because we just can't quit.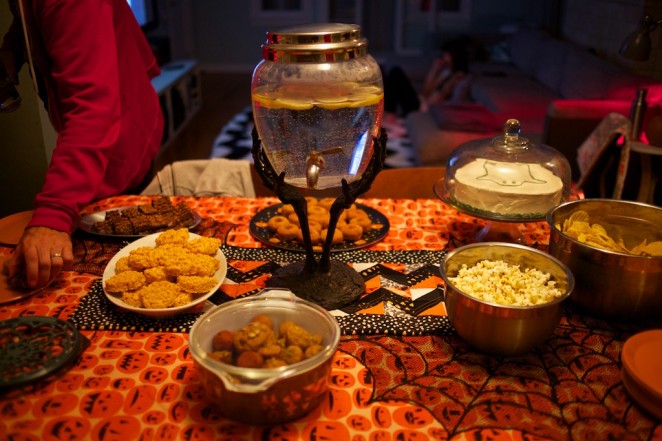 As per usual we made a ton of treats, in fact, perhaps too many treats. There was pumpkin spice cake, rice crispie treat pumpkins, caramel popcorn, spinach artichoke dip, queso and more.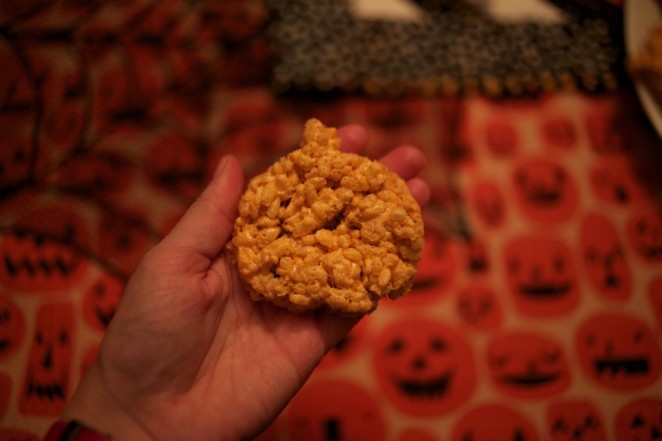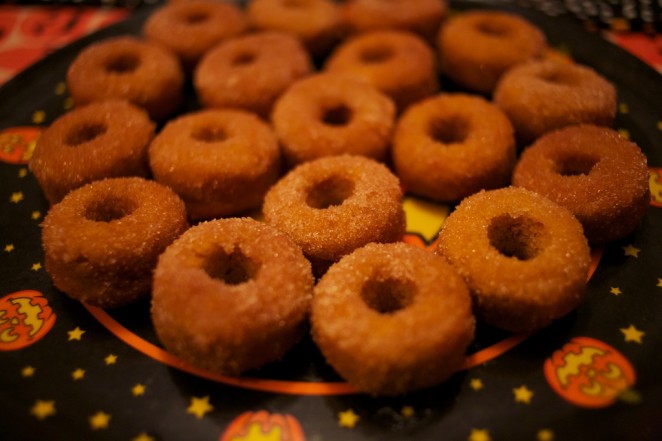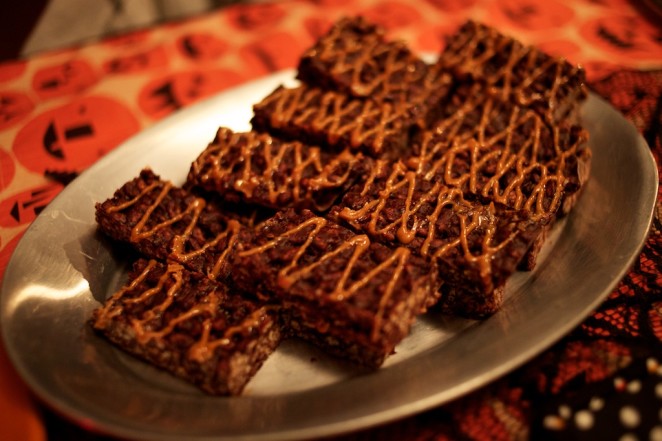 Jenn made some pumpkin spice donuts and chocolate coconut bars. Shawn made a giant batch of macaroni and cashew cheese. Plus we had our traditional tofurky dog bar at some point in the middle of the night.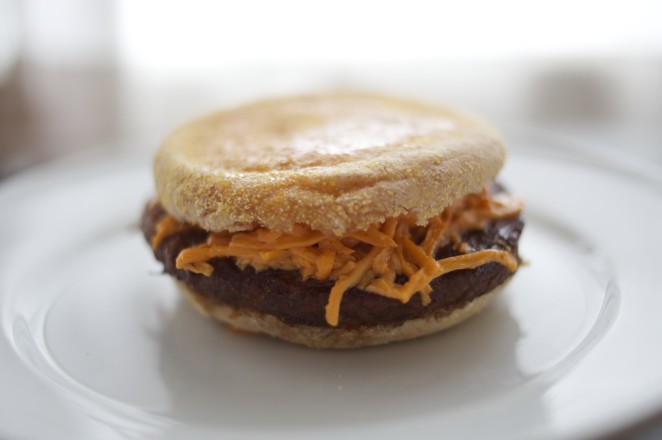 With so many sugary treats and only a tiny bit of sleep I was feeling pretty terrible this morning. I whipped together a a batch of badass breakfast sandwiches since they were a hit last year, and they really helped me rally for the rest of the day. Coffee might have helped too.
This year some friends spawned their own horror movie marathon in Texas so there were dueling marathons this weekend. I like the idea that the marathons are multiplying. You too can watch scary movies in excess!
Since I'm still a bit delirious, I'll just get to the list of what we watched.
1. IT'S THE GREAT PUMPKIN CHARLIE BROWN
2. TEXAS CHAINSAW MASSACRE
3. BLACK SHEEP
4. FRIDAY THE 13TH THE FINAL CHAPTER
5. POLTERGEIST
6. WOLF CREEK
7. THE RING
8. HALLOWEEN III:SEASON OF THE WITCH
9. THE CONJURING
10. LAKE MUNGO
11. DEADLY BLESSINGS
12. MAMA
13. INSIDE
14. POSSESSION
Since this was year six, we included quite a few films we hadn't seen before. Of course it's always the classics that are the real winners. Ending with POSSESSION (from 1981, just so there's no confusion with the more recent The Possession) was a great choice as it is not only a great film, but it's also nuts. Highly recommended if you haven't seen it.
It was lots of fun, especially when things started getting silly. Looking forward to more Halloween celebrations in the next few weeks. Pumpkin carving! Costumes!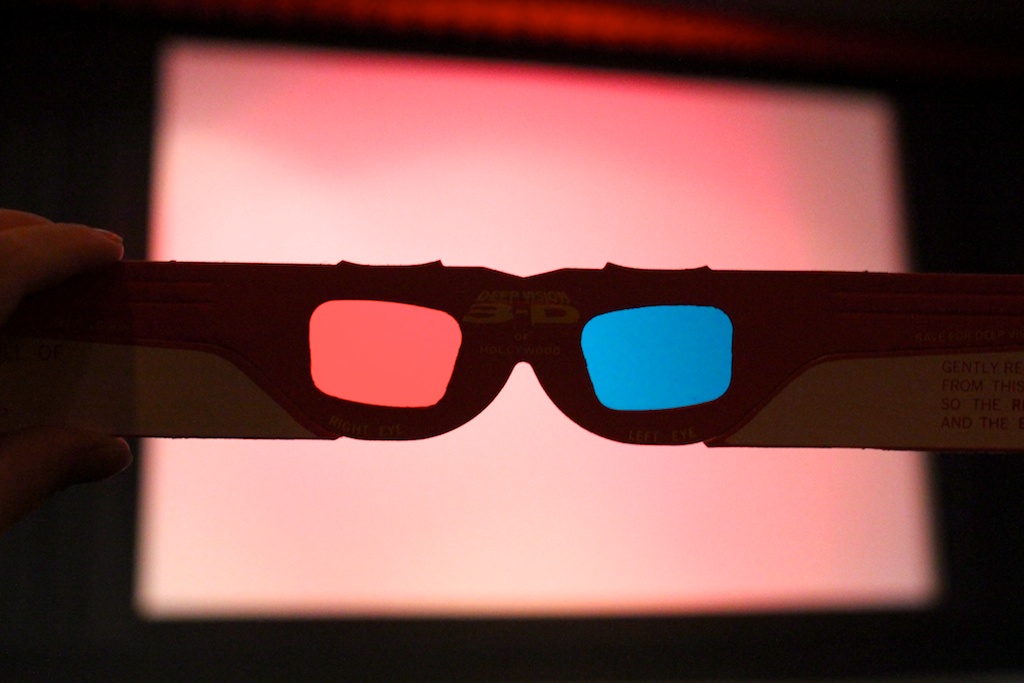 October is our season of horror movie watching. We try to pack in as many films into the month as possible. If you've been reading Cute and Delicious for awhile, you hopefully know about some of our past movie marathons. This year will be our fourth annual and we're already planning what films to show. But I'm getting ahead of myself.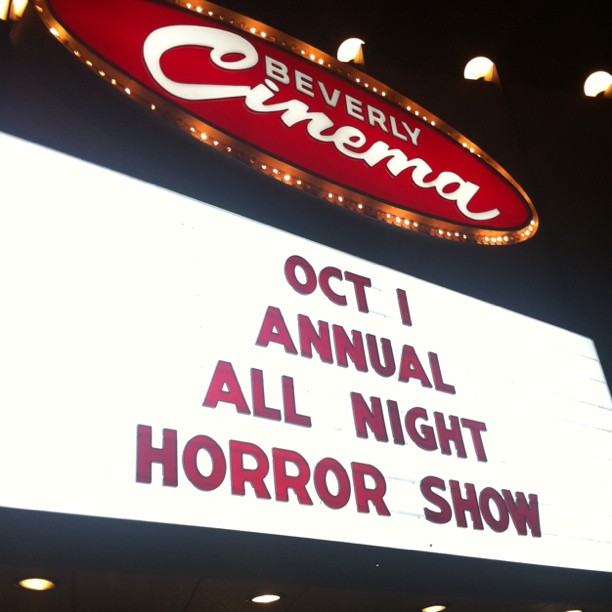 This weekend, we got the month off to a great start by attending the 4th annual Horrorthon at the New Beverly. Six movies, plus a handful of curated trailers, all in one night. The theater was packed but we managed to score some great seats in the center front. Our friend and fellow movie enthusiast, Jennifer, joined us for the evening.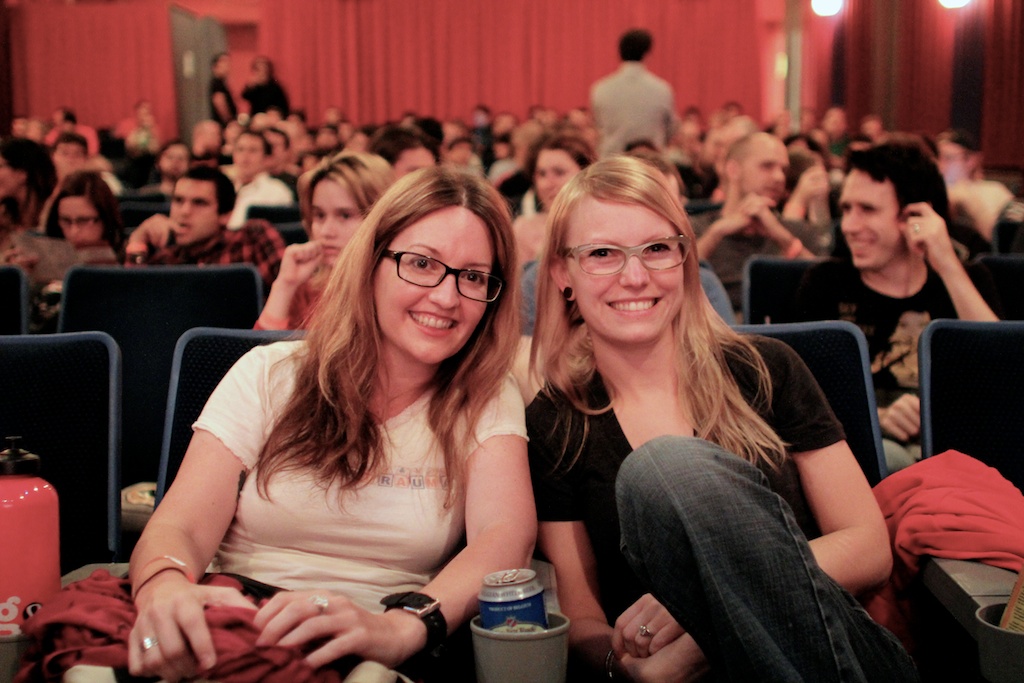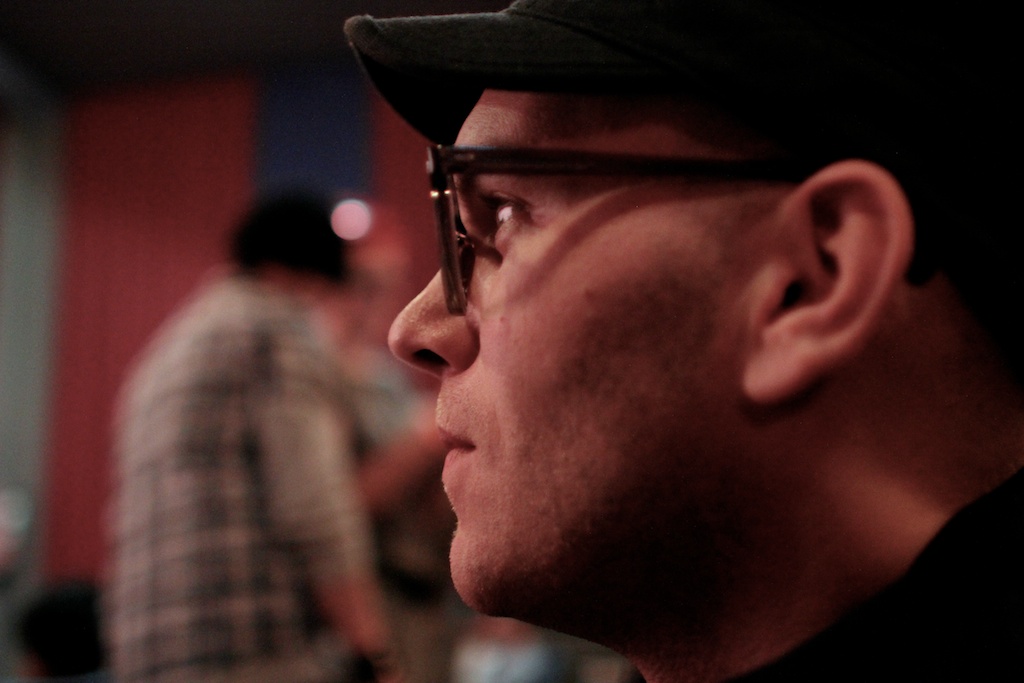 So what did we watch?
Beyond the Door
Creature from the Black Lagoon (in original 3D)
Hell Night
Brain Damage
The Pit and the Pendulum
Horror Planet (aka Inseminoid)
Almost all the films were new to us (except Creature from the Black Lagoon). Beyond the Door was my favorite of the evening by far as it was totally a mash up of The Exorcist and Rosemary's Baby, but a strange nonsensical version. It was cool to see films I hadn't even heard of and even better to see them with an excited audience.
By the way I am always looking for horror film recommendations to expand our collection. What are your favorites?