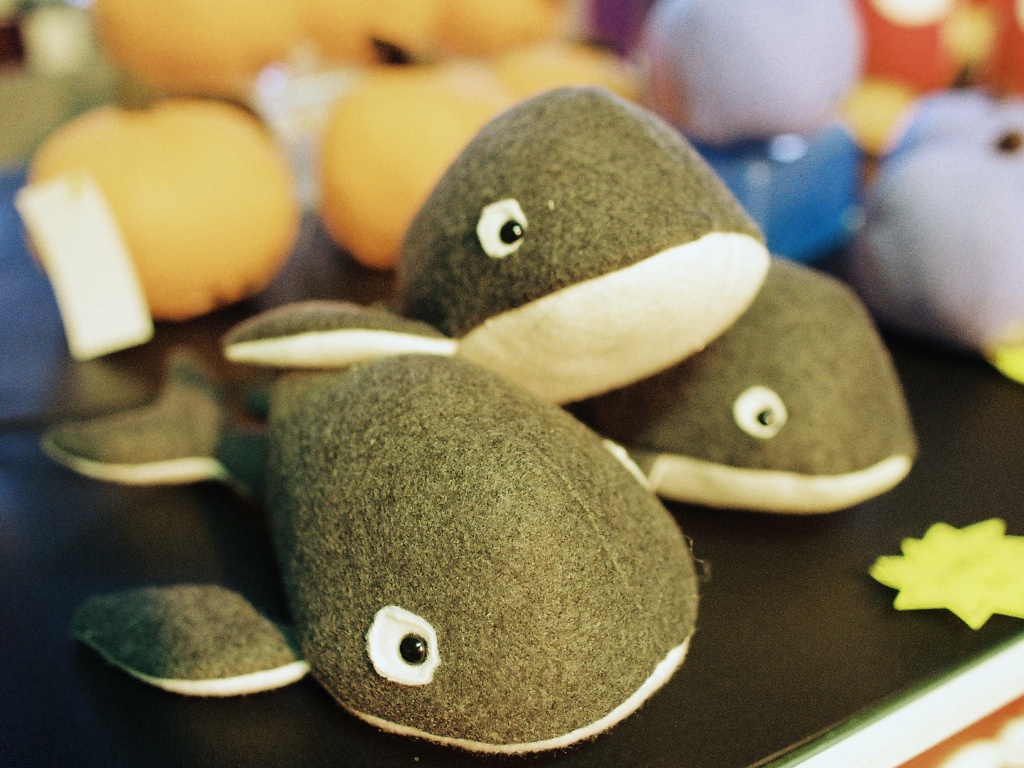 This weekend there was not one but two craft fairs going on in Los Angeles. It's time like these that I wish I could clone myself so that I could have  attended both. While I missed Renegade this year, I did get to browse the enormous Unique LA. I've been attending for the past few years and every event is massively bigger than the last. Viva la handmade revolution!
I wanted to share a few of the shops I was able to snap photos from, as well as a few I wasn't able to. Like those adorable felt whales from Janie XY. So freaking cute. I have a major weakness for felties, which is probably why our apartment is teaming with them.
One of the first booths I saw and loved was the paper goods from Shortstack Press. Very sweet designs plus I got to chat with Allison who was super nice. I loved the recipe cards.
There was a photo booth set up by Oh! Snap. Definitely the coolest photo booth I've ever seen. Everyone wanted their photo with the snow monster.
How cute are these shirts from Rad is Rad?  Super cute!
Dave from Taco Comics was painting away during the show. It was cool to see the work in progress.
Sycamore Street Press had a lovely set up. Wonderful holiday cards, a great 2011 calendar and foldable fortune teller.
There were some great home made jams from Lemon Bird. They had some seriously ingenious flavors.
One of the most gorgeous booths was the one shared by Liz Huston and Amy Reed. Liz had some amazing artwork and Amy is the maker of Dust jewelry. I wanted to live in their booth. Go check our their work!
These cute pot holders were from collisionware. All the owls are great. These could totally spice up your kitchen.
I also got to hang out for a bit with the rad Sara Tea while she DJ'ed. She kept everyone's spirits up while they checked out the shops.
That's all for my photo round up, but I have a few more shops to mention…
The most beautiful jewelry from Melissa Loschy. I really wanted one of her necklaces, but was shopping for gifts, not myself.
Super hot lingerie from Purrfect Pineapples who I finally got to meet. I love Erika's designs and they're all cruelty free.
Rad shirts from Timber Preservation Society.
There was even a vegan pie from I Heart Pies.
Lovely vintage badges from Crown and Badge Salvage Company.
It was really fun, I wish I could have roamed around all day peeking in the shops and checking out all the crafts. Can't wait for the next one.